Regular price
€2.349,00 EUR
Regular price
Sale price
€2.349,00 EUR
Unit price
per
Sale
Sold out
Batteries are manufactured on demand. Depending on demand, delivery times may vary. If you want to pay by transfer, please contact us by email.
Delivery to mainland France, Corsica and the European Union only.
View full details
More information
Description

JW SHOP batteries have benefited from a long development process to offer an uncompromising and very high quality product. Thanks to them, you will be able to experience a huge gain in power and autonomy. You will finally be able to go on an adventure without the risk of running out of battery. You'll probably be tired before you drain your battery since you'll have 140% more power and 88% increased capacity .

Do not search anymore. Here you have a compact , powerful battery, with great autonomy and a high level of finish. It's the ultimate upgrade that will transform your motorcycle.

Features

18S 11P
INR 21700 cells: LG M50LT (4930mAh - 14.4A)
Number of cells: 198
Rated voltage: 64.8V
Capacity: 55ah (3600Wh)
BMS: ANT 320A
Maximum power: 12kW
Height: 36 cm
Weight: approximately 17kg
Waterproof housing
Display of battery % , voltage and temperature directly on the battery LCD screen
The battery cuts out at 3V per cell
! Do not trust the % of the battery but the voltage!

Strong points

- Made in France

- 2 year warranty

- Excellent weight/size/capacity ratio

- - Cells spot welded by Kweld in 0.3mm copper Bus Bar

- Aluminum case cut from the mass , LCD screen and handle

- 240% of original power

- 188% of original capacity

- Compatible with all chargers and controllers supporting 64.8V

- We provide you with all the parts to adapt the hood of your motorcycle to the battery

- Compatible with the original battery plate
Collapsible content
60, 66, 72 or 80V

The first thing to know is that to know the autonomy of a battery, you don't just have to look at the amps. The capacity of a battery is calculated by V x Ah. This is why a 60V60Ah will have the same autonomy as a 72V50Ah, because both have 3600Wh capacity. But be aware that the more power you use, the more Volt it will take to have great autonomy.

The higher the nominal voltage, the less the controller and motor will heat up. So, the higher voltage you have, the more power you will be able to use. The power of a 60V will start to "run out of steam" from 40kmh for example, while a 72V will continue to deliver maximum power up to 60kmh.

Our 60V battery is compatible with the original controller and charger. You can also benefit from more power with a specific controller since our 60V battery can deliver up to 12Kw (20Kw in 50S).

Our 66V battery allows a power gain of approximately 10 to 15% while being compatible with the original controller. You will also be able to benefit from more power since our 66V batteries can deliver up to 12Kw (25Kw in 50S) with a specific controller.

Our 72V battery is the choice to make if you want to ride with great power. It will allow you to benefit from the full performance of the battery while limiting motor and controller heating and thus benefit from maximum autonomy while being compatible with a large number of controllers.

Our 80V battery is designed for those wishing to ride at high speed. If you have an 80V compatible controller, then go for it. You will have great autonomy, maximum power and minimum heating.
LG M50LT or Samsung 50S cell

The LG M50LT cells offer an excellent performance/price ratio while the Samsung 50S are those which offer the best power/autonomy ratio. Even if the Samsung 50S allows you to benefit from 25Kw, you must understand that with equivalent power, they will have better autonomy. The Samsung 50S will also be able to retain their power much longer when the battery discharges. This is related to Voltage SAG. When we draw power into the cells, the voltage will drop and therefore arrive more or less quickly at the threshold where the battery will lose power. In any case, you will have a battery with very good cells and above all you need the battery adapted to your budget!
Autonomy

This is the big question that everyone would like to know the answer to before purchasing a battery. How many km will I do? You should know that answering this question is difficult since it will depend on the weight of the rider, the terrain, the elevation, the level of riding, the power used, etc...

However, to help you give you an idea, know that an original 60V32Ah battery has a capacity of 1920Wh. Our 72V50Ah battery has a capacity of 3600Wh.

So if you drove around 35/40km with the original battery you can imagine being able to cover around double the distance.

Our batteries are in any case entirely designed to provide you with maximum autonomy : more efficient cells, heat dissipation, optimization of assembly, copper lined with nickel...

To give you an idea : with our weight of 70kg equipped, a power of 15Kw and a very sporty outing we did 60km with 2500m of elevation gain ! With a slightly more leisurely pace but still with 15kw we are around 65/70Km with still 2000 D+!
Power and safety

Our batteries equipped with LG M50LT cells can provide 12Kw and 25KW in Samsung 50S .

So don't hesitate any longer and go and try your motorcycle on the hardest enduro trails or on cross-country terrain, because you will have to relearn how to ride your new motorcycle. With so much extra power, be careful on your first ride!

In any case, don't worry about your battery, because it is equipped with a carefully configured BMS that takes care of monitoring all battery information in real time, such as cell block voltage or temperature probes. . If there is the slightest problem, the BMS will lower the power of the motorcycle, or even instantly cut off the power.
Housing

Our case is the result of a long development in order to obtain the high level of quality that we demanded. It is designed in three parts which will form this solid and reliable case: The top and bottom of the battery are 6000 aluminum plates machined from the mass, in order to have the highest level of resistance to withstand the weight of the cells and the shocks that the motorcycle may receive. The contours of the case are made of 2mm thick aluminum plates , covered with a black covering to enhance the box. The entire box is closed with numerous rivets and is fully sealed with silicone to provide a waterproof box. You thus have one of the best, if not the best, subwoofer on the market. It combines lightness and strength, while having a neat design . In addition, it is equipped with an air exchanger to help cool the battery and prevent condensation.
Every motorcycle is different. We have already observed that motorcycle frames can have slight differences in dimensions. The aging of certain elements around the battery, such as the plate where the circuit breaker is attached, can become deformed over time. Although our batteries are all tested in a motorcycle before shipping, it is not impossible that you may observe slight play in the battery in your motorcycle. In this case, you can either use an inflatable battery bag or make a homemade wedge to prevent it from moving.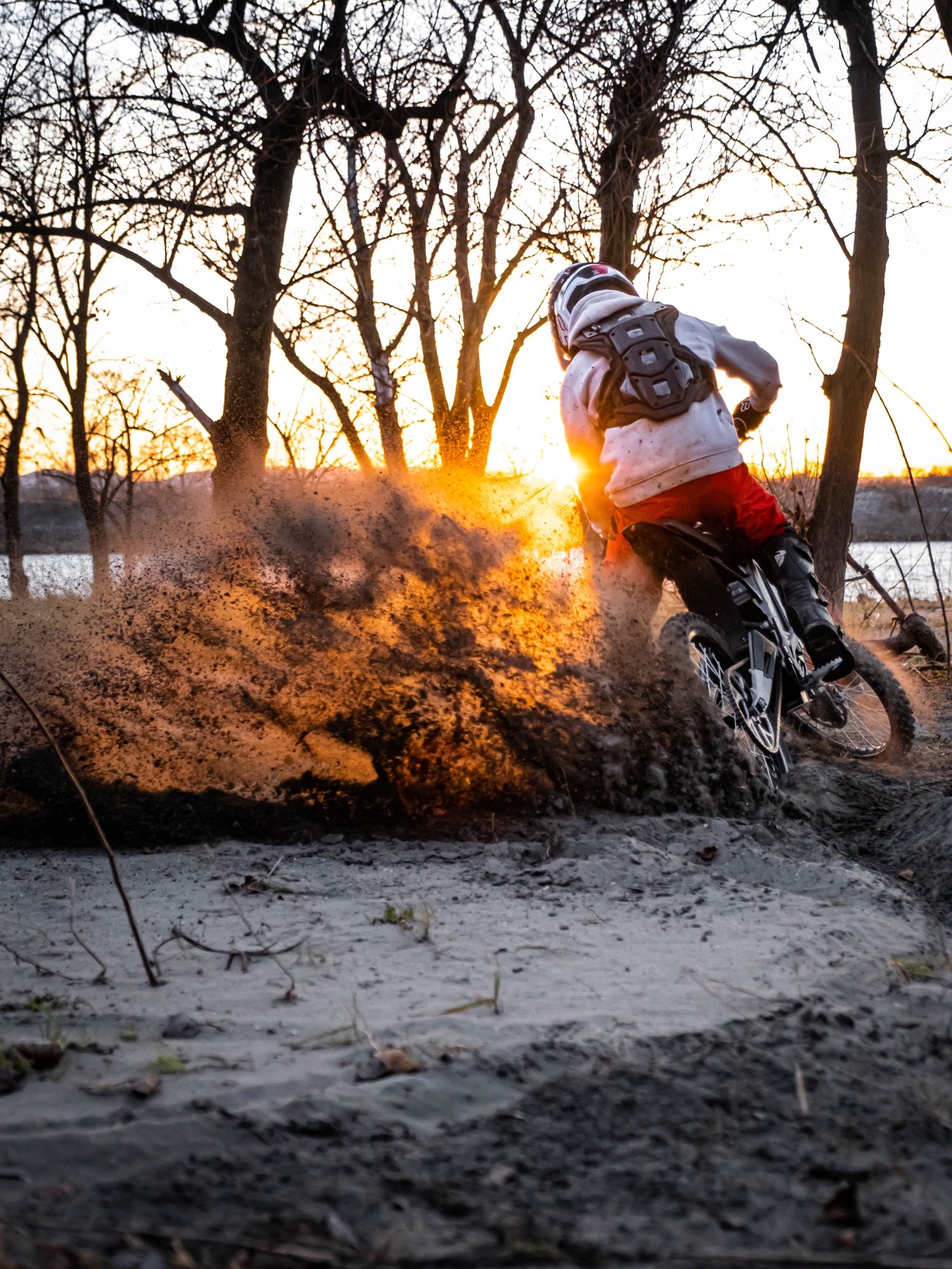 "Jo & Will's Word"
The increase in power and autonomy really changes the way you use your motorcycle. The outings are much sportier and much longer. You will no longer be frustrated by not being able to borrow that little single that you saw because you had to go back. You will no longer complain about the bike's lack of power. Now it's your driving that will need to be improved!
Please note, the installation of a battery aimed at increasing the performance of the machine renders the approval void and therefore driving on public roads is prohibited.