Regular price
€9.000,00 EUR
Regular price
Sale price
€9.000,00 EUR
Unit price
per
Sale
Sold out
For any motorcycle order placed, you obtain a -5% promo code on all your parts orders for 1 year!*
The Ampera 500 retrofit kit for motocross is suitable for both amateurs and professionals such as flight schools.
Equivalent to a 250cc 4-stroke , the Ampera500 kit promises a completely different way of driving , preserved sensations and unparalleled driving pleasure thanks to the ease of the electric kit. An aftermarket engine in chassis approved and manufactured by the world's largest manufacturers such as KTM, Husqvarna and GasGas .
View full details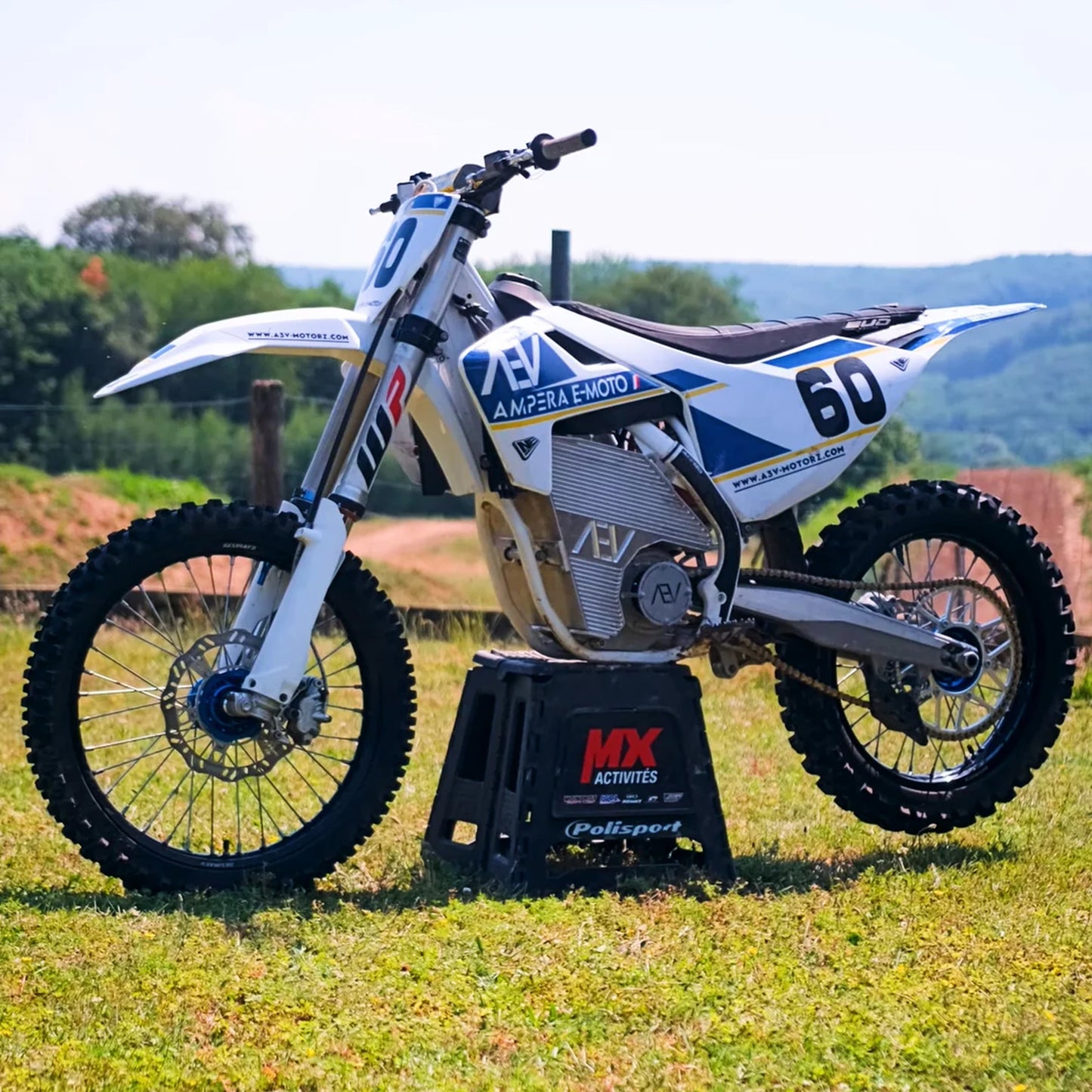 More information
Description

The company AEV Motorz ​​is developing its electrification kits with the aim of maintaining the original weight of the thermal vehicle. AEV had to find a way to reproduce the engine braking of a thermal engine. Objective achieved thanks to regenerative braking , simulating engine braking.

No additional mass and an integrated electric motor in place of the original thermal motor and simulated engine braking, all points allowing the behavior of the original vehicle and its handling to be maintained.

Electric energy allows you to go even further, thanks to its ease of use it offers greater accessibility to practice, as well as faster improvement in driving for a beginner for example.

The AEV company removes the gearbox through its electrical kit and also allows you to modify the position of the rear brake usually by foot, to position it in place of the clutch handle . By removing the steering actions from the feet, the pilot then obtains 100% of the mobility of his legs to use for his piloting, particularly during right and left turns.

A power under plastic of almost 35kW , giving almost 47.5hp on all charges, for a power equivalence of a 250cc 4-stroke thermal. AEV kits such as the Ampera500 also allow you to pre-record different engine maps .

The Ampera500 offers the possibility of configuring 3 motor maps. These maps allow you to adjust engine parameters such as the power curve, the torque delivered or even regeneration (simulating engine braking). All of these parameters being adjustable, they allow the pilot to adjust his engine as he wishes and therefore, to adjust it as closely as possible to his needs and to have his own configuration. The driver's own engine maps will allow him to have maximum fun on the track.

Autonomy

No fuss here, AEV Motorz ​​calculates the autonomy of its products based on its driving during tests and during the team's races in competition . By relying on different references such as LX Tour sleeves on short terrain, adapted to light motorcycles such as Sur-Ron and Talaria , or even on MX terrain type references (during tests on the MX Activity terrain in Sichamps). AEV Motors seeks to communicate autonomy in real conditions of use.

Running time: 45 min (average assessment based on 2 references)
1. The A500 completes 5 rounds of an LX Tour day (5 x 10min) without recharging, with 50% remaining autonomy at the end of the day, on short terrain with an 80kg intermediate rider.

2. Piloted by a 70kg elite category rider, on MX terrain, 30min session (2x15min) as usual with a sustained pace. Remaining charge after driving 40%.

Driving range: 1h30 – 2h

Following feedback from our customers, the A500 carries out 1.5 hour rides in ECO mode without problem. With experience of the machine and the route, the 2 hours of rides are doable.

The autonomy varies depending on several factors , the rider (weight and experience), the use of the motorcycle (race/ride type), the engine map used (ECO/Full), as well as the terrain (elevation, type soil: earth/sandy). All of these factors must be taken into account and assimilated to have a better approach to the autonomy of an electric off-road vehicle.

Strong points

- Same weight as the original model

- 35 kW at 7500 rpm

- 450Nm of torque

- Fast charging accepted

- Air cooling

- Compatible on KTM, Husqvarna and GasGas base

- Quiet and reliable, because of its proven and well-known chassis

- Design , manufacturing & assembly of batteries and kits made in France
Collapsible content
Features

Max power : 35kW at 7500 rpm (47.5hp)
Motor torque : 450Nm adjustable
Motor : 72V – PMSM Brushless IP67
QS138 70H 3kW
Battery : Lithium-Ion, Molicel cells
Battery capacity : 21S (88V) – 67Ah – 6330Wh
Assembly in P42
Peak battery discharge : 700A peak
Autonomy :
Race: 45min
Walk: 1h30 – 2h
Autonomy varies depending on the level of the rider, their weight, the altitude difference and the type of use
Here, the racing autonomy evaluated by an elite category rider on dirt motocross terrain, with no difference in altitude. 30min session, 40% remaining battery charge
Cooling : By air
Engine maps : 3 adjustable maps
Basic maps :
1. ECO
2. Full + 2T engine brake
3. Full + 4T engine brake
Regenerative braking : Active
AEV Motorz ​​uses the regenerative braking function to simulate engine braking and influence vehicle behavior
Fast charging : Accepted
Fast charger not included, to be purchased additionally
Compatible motocross chassis :
KTM 450 SX-F from 2016 to 2021
KTM 350 SX-F from 2016 to 2021
KTM 250 SX-F from 2016 to 2021
Husqvarna 450FC from 2016 to 2021
Husqvarna 350FC from 2016 to 2021
Husqvarna 250FC from 2016 to 2021
GasGas MC 450F from 2016 to 2021
GasGas MC 350F from 2016 to 2021
GasGas MC 250F from 2016 to 2021
Weight complete kit : 50kg
Guarantee :
2 year battery warranty
2 year engine warranty
2 year controller warranty
Guarantee for rest of kit 1 year
"Jo & Will's Word"
The Ampera kit in the Husqvarna really won us over with its ease of use and power. It's a real pleasure to ride it when we get the chance. It really is an Ultra Bee the size of a cross !
*hors catalogue EXT et limité à un exemplaire par produit. Nous nous réservons le droit d'annuler la commande si celle-ci ne respecte pas les conditions.